Hi everyone,
I am so excited and honored to be a part of amazing group of makers who contributed their makes for the newest AGF Esoterra Lookbook, featuring beautiful Esoterra collection by my super-talented friend, Katarina Roccella. I really don't know how she does it – but every next collection is more beautiful, magical, full of amazing color and stunning design!!!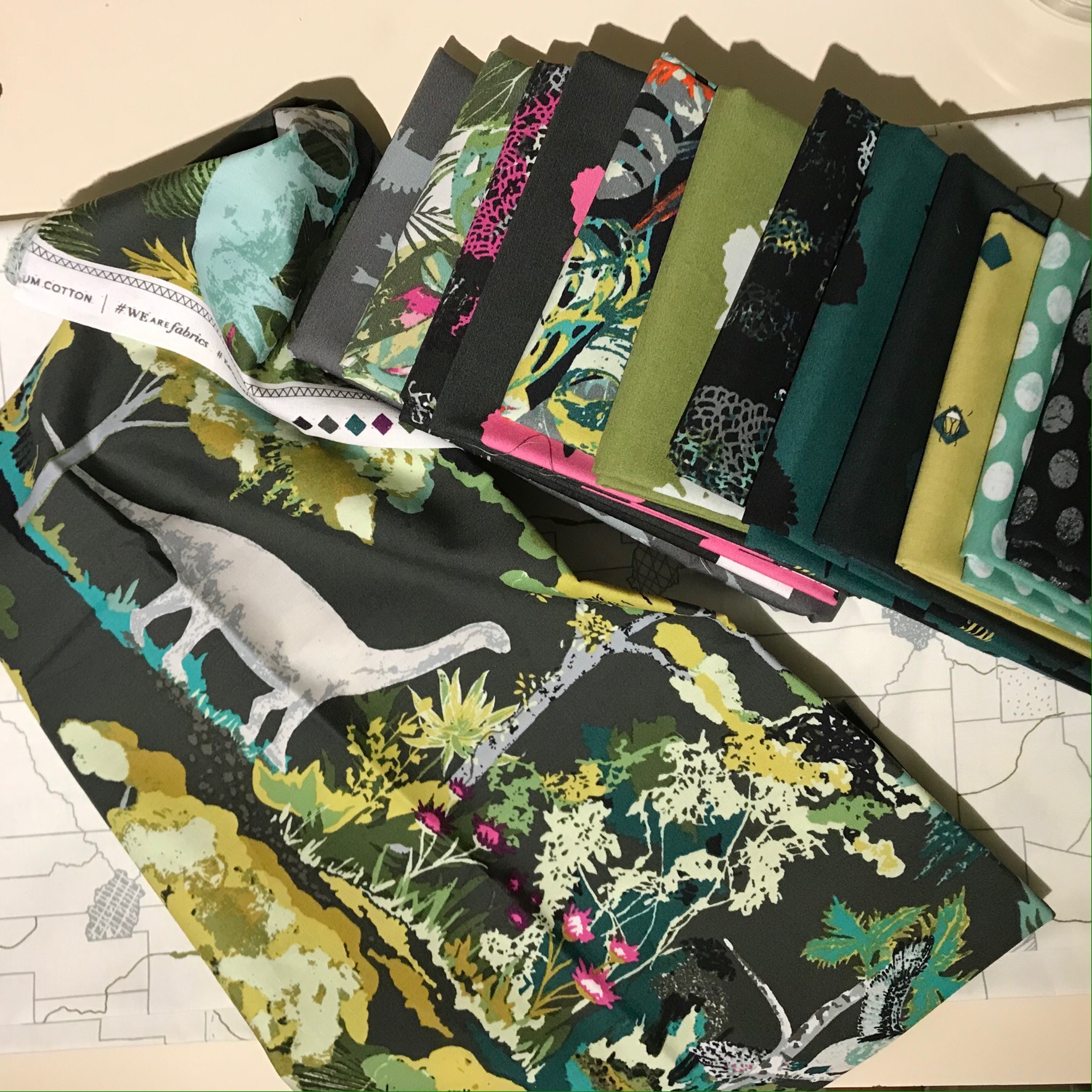 Esoterra has dinosaurs!!! How fun is that?! And in the same time, you might think, maybe a little restrictive…too specific? Actually NOT!!! You can pick to feature fun dinos, but you will also have gorgeous colors and texture, and prints that completely stand on their own and will make amazing projects. And the greens…. the greens are so yummy!!!
As soon as I saw it, for some reason one of my older designs came to mind… I used to call it Squares and Shadows – now that I think abut it, not the most creative name, right?
I made this pattern in several fabric combinations and sizes, but once I saw Esoterra, a whole another set of ideas came. I separated the blocks with some sashing….
And then some different borders too…
So these two emerged to me as the most interesting: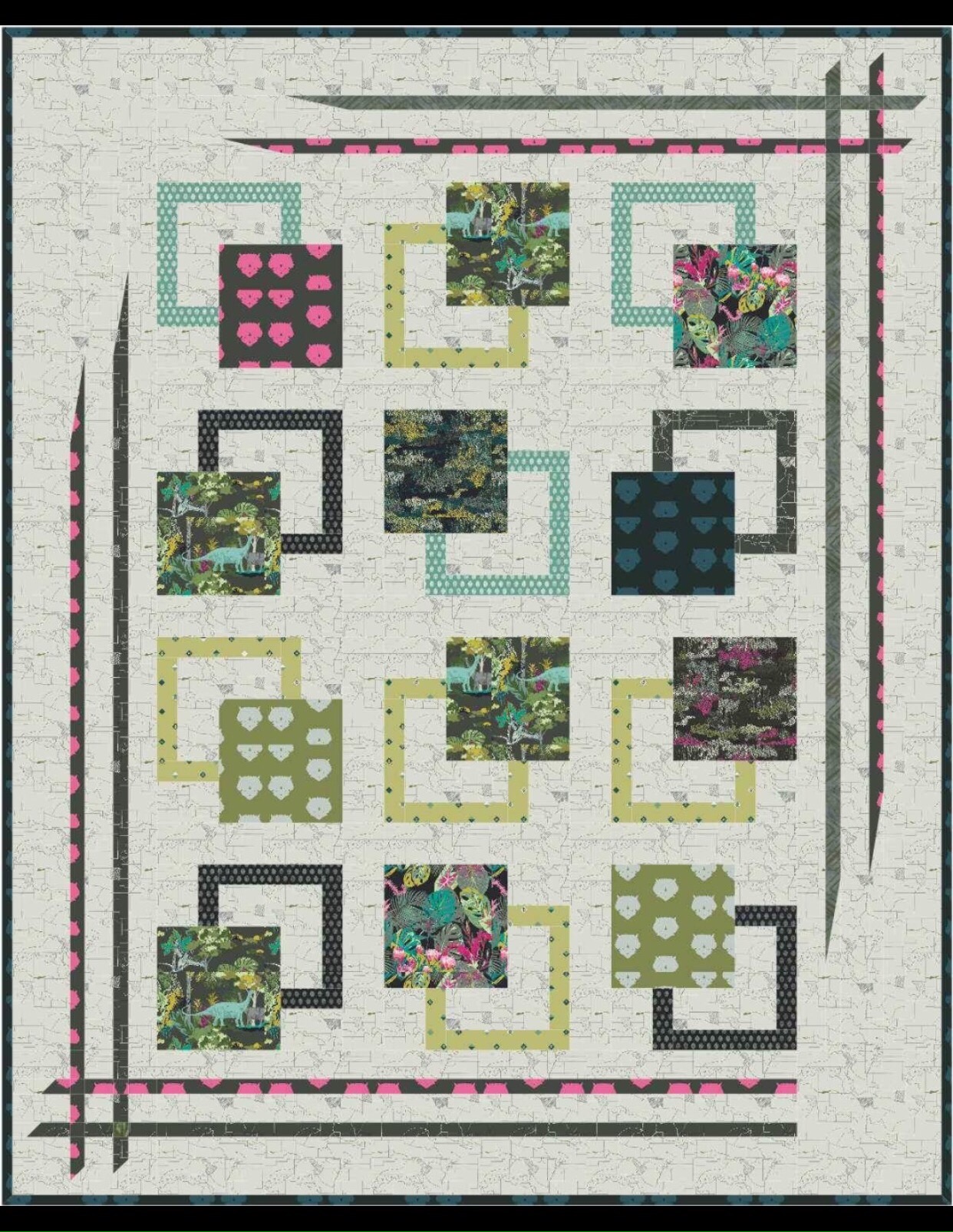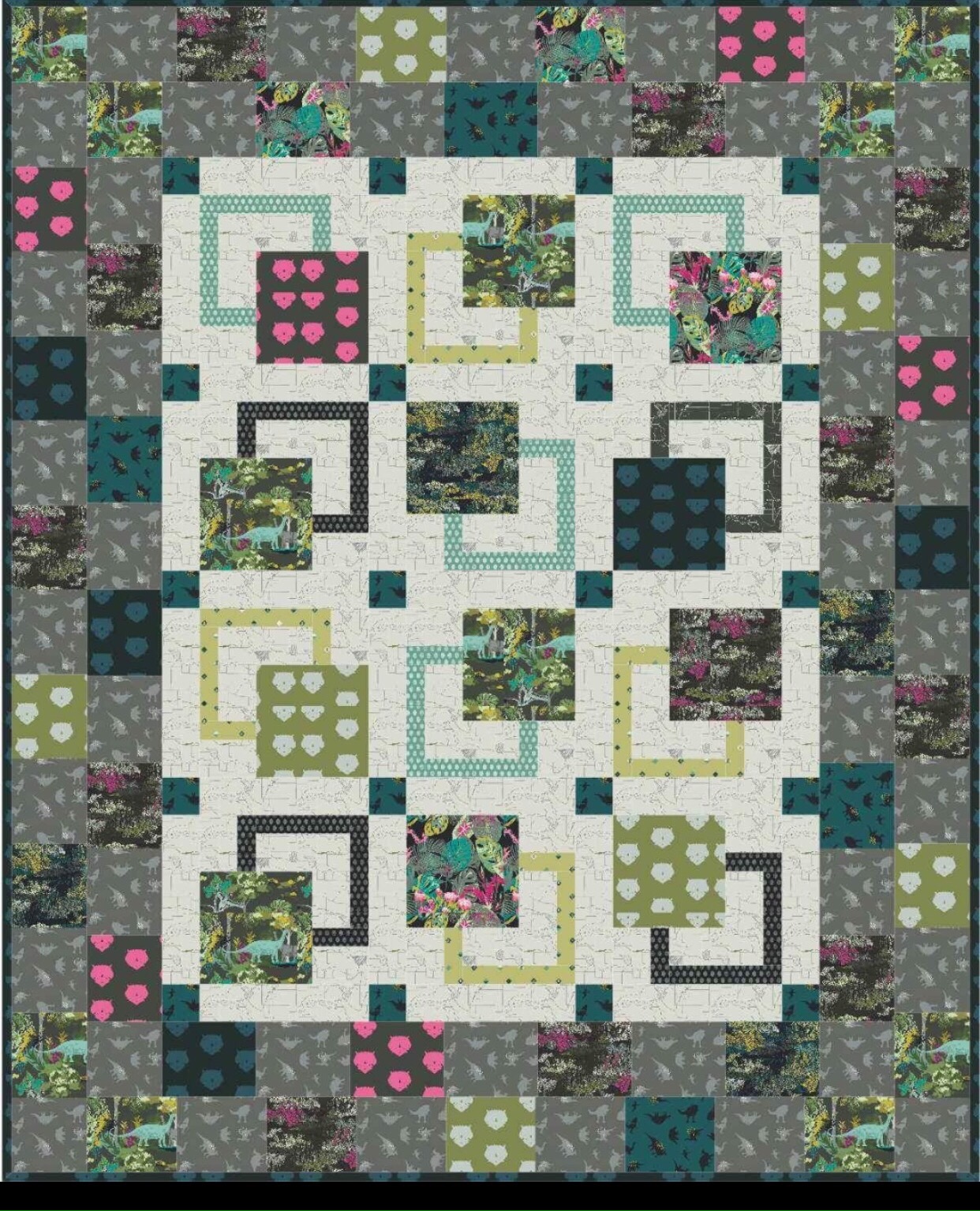 After I got Esoterra fabrics, cutting and stitching begun!!
This pattern might look complex but it really isn't! It is just large squares of the fabrics you want to feature and then some strips of background and accent colors (square frames).
All you need to do is make strip-sets of one of each, background and accent color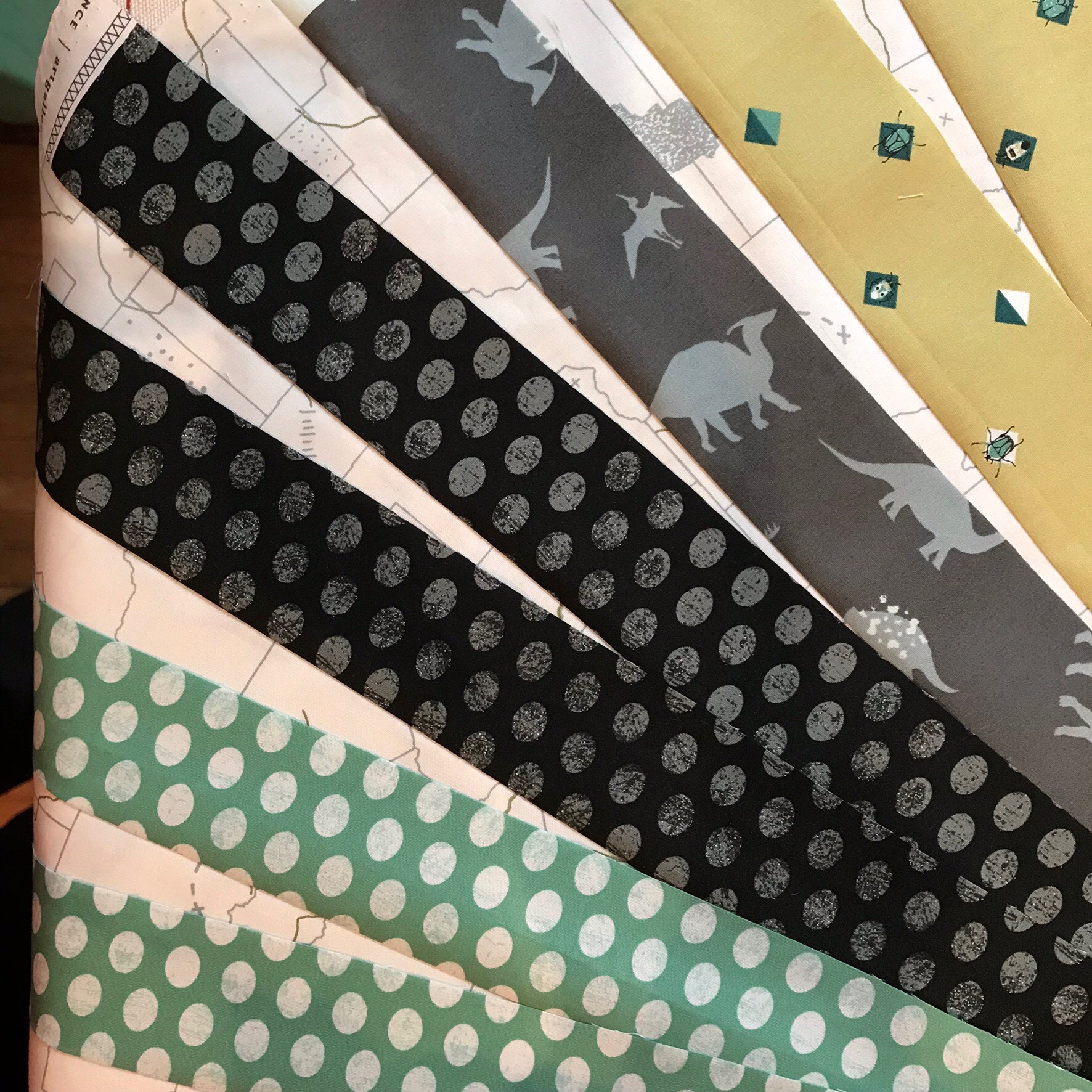 And then cut them into segments (all stacked here)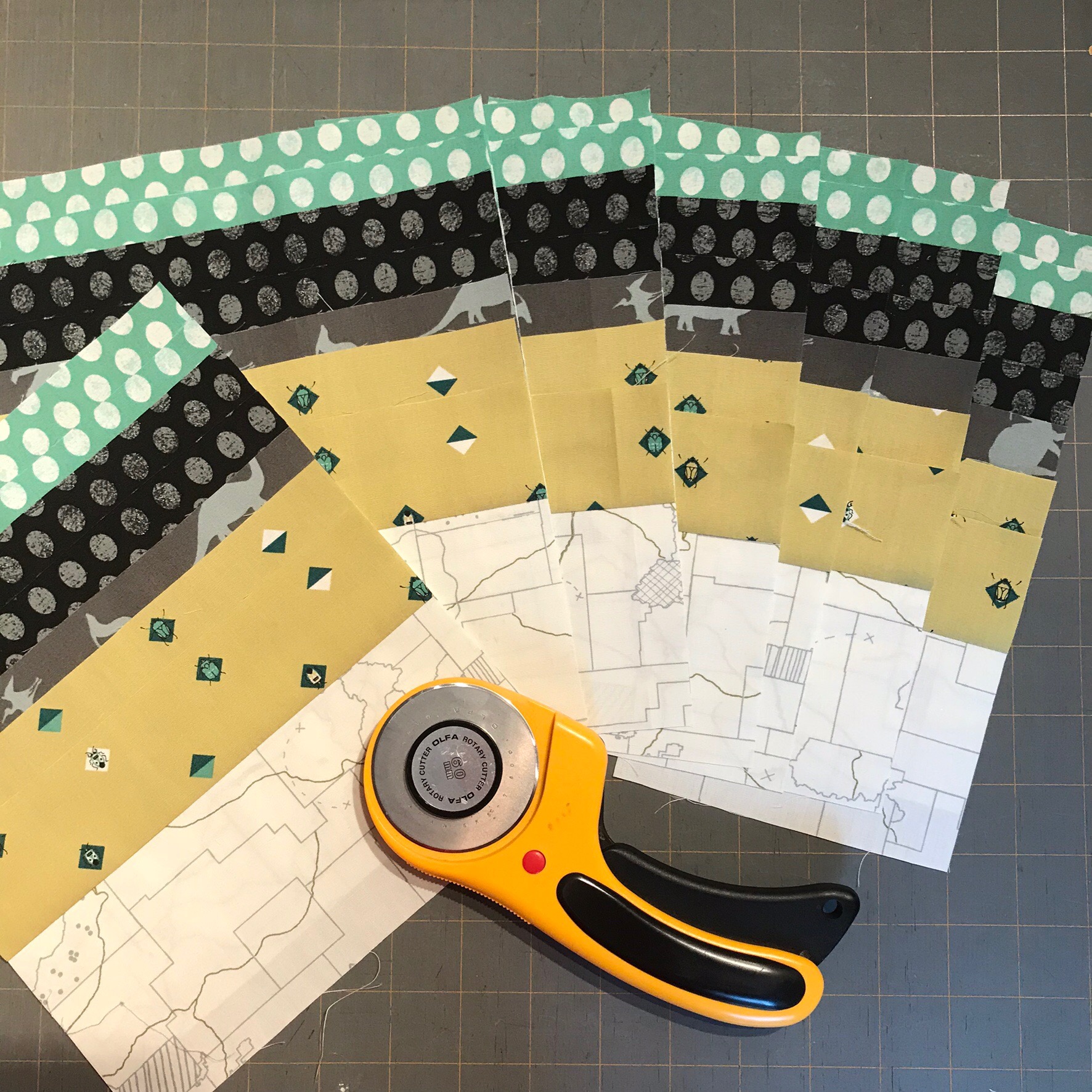 And then it's time to arrange it all for each block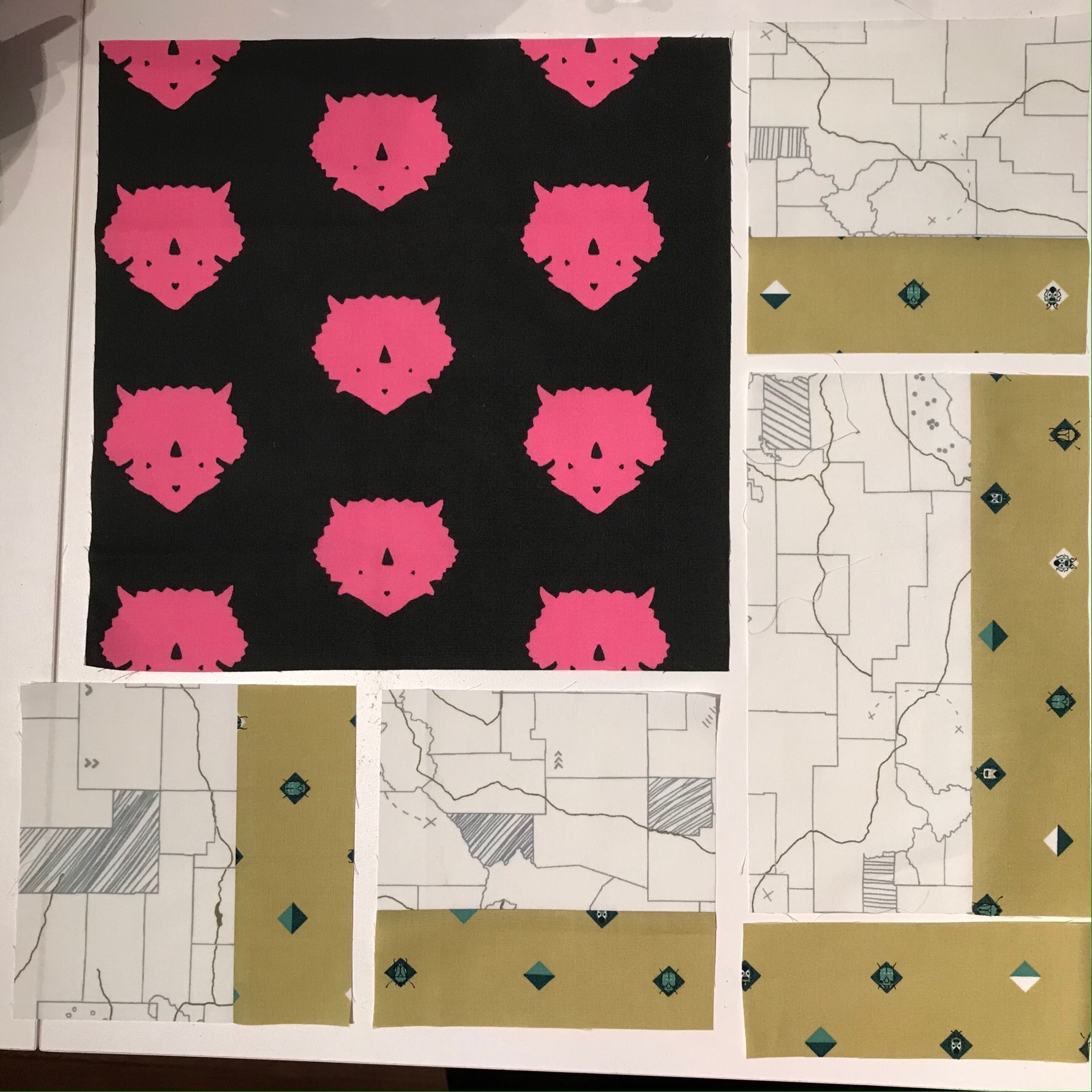 Here is what goes in each block: ( for a 13.5″ block, finished size)
1. One 9.5″ square
2. Three strip-set segments that are cut at 5″
3. One strip-set segment that is cut at 8″
4. One strip of accent color fabrics that is cut 2″ x 5″
Once you lay out a block, and piece it, it will be 14″ (13.5″ finished), so you dont need many blocks for a nice size quilt. I added some sashing (3″ wide) and with 12 blocks, it is a lap size quilt! Just follow the link below to get a whole pattern and some extra bonus ideas too.
For all the details and instructions, to download the pattern (and some bonus ideas) click HERE
Once I had everything, it was time to decide on a layout – probably the hardest part for me! (for the scientist in me, the "random" thing doesn't come easy, I guess? 🙂  ). Started with this first one and ended with the one below that – yes?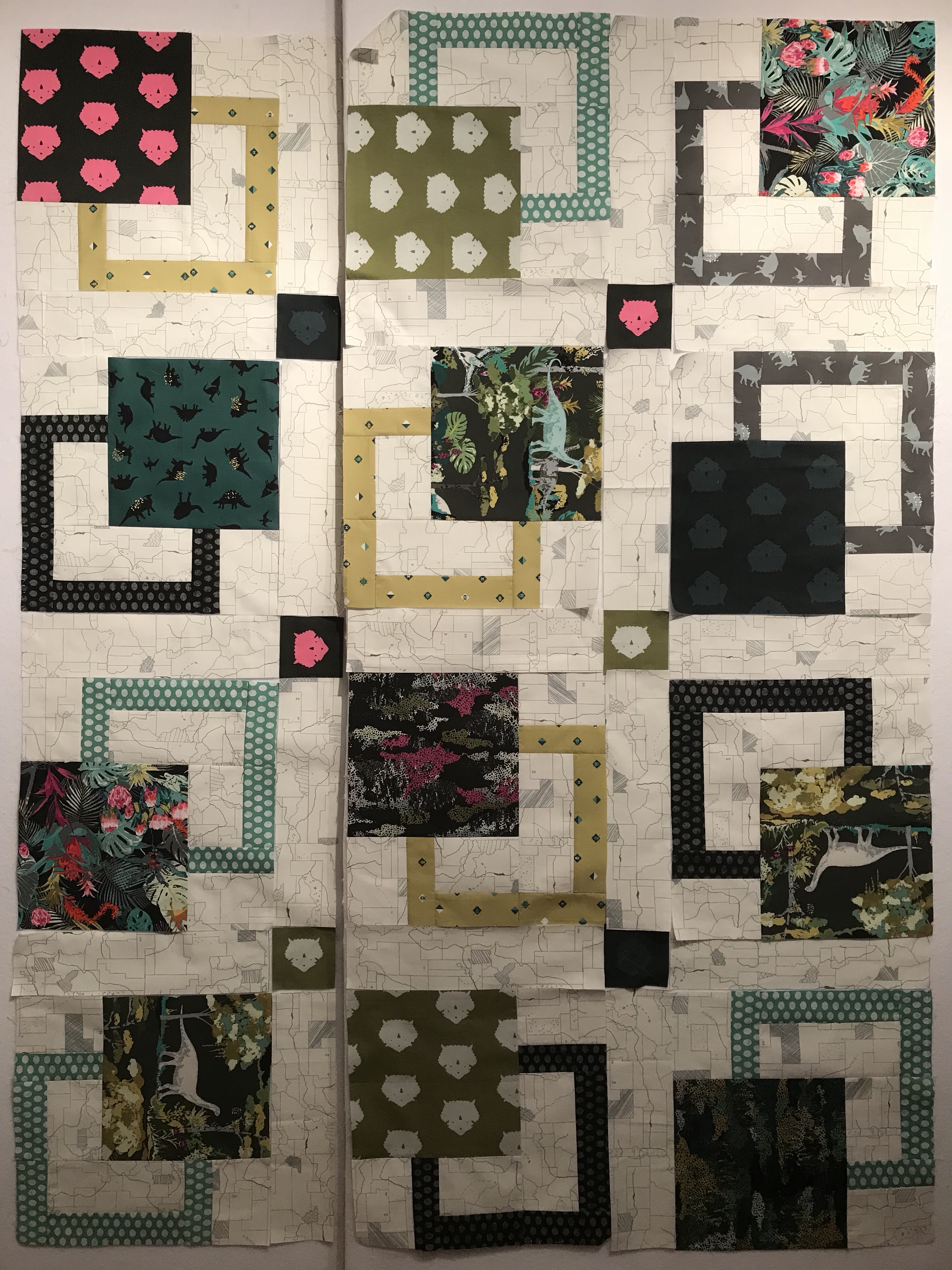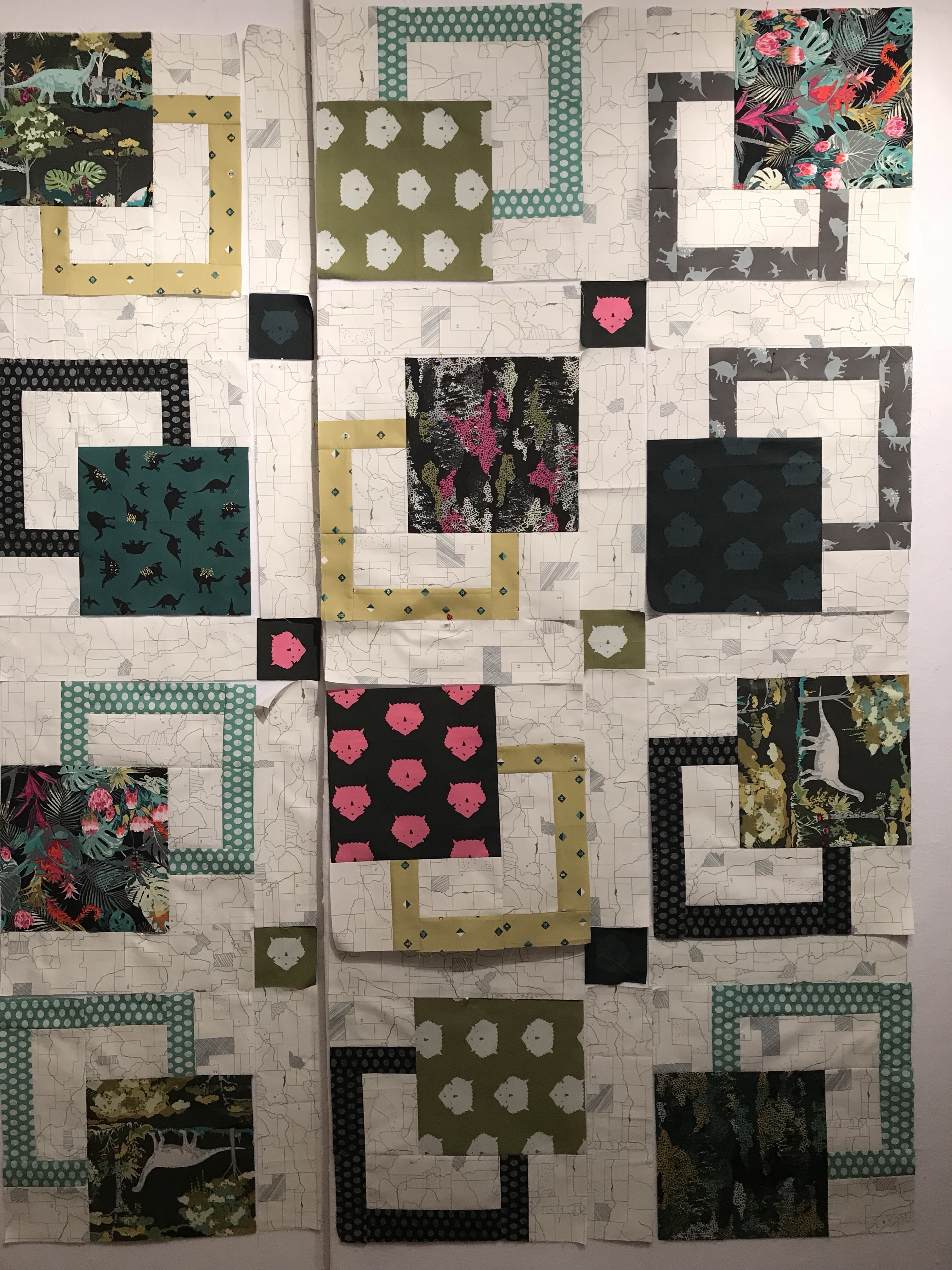 After that was settled, it was put it together, baste and  – Quilt! I used that beautiful light gray, 50wt Aurifil in background and even more beautiful teal, 40wt Aurifil on the large squares…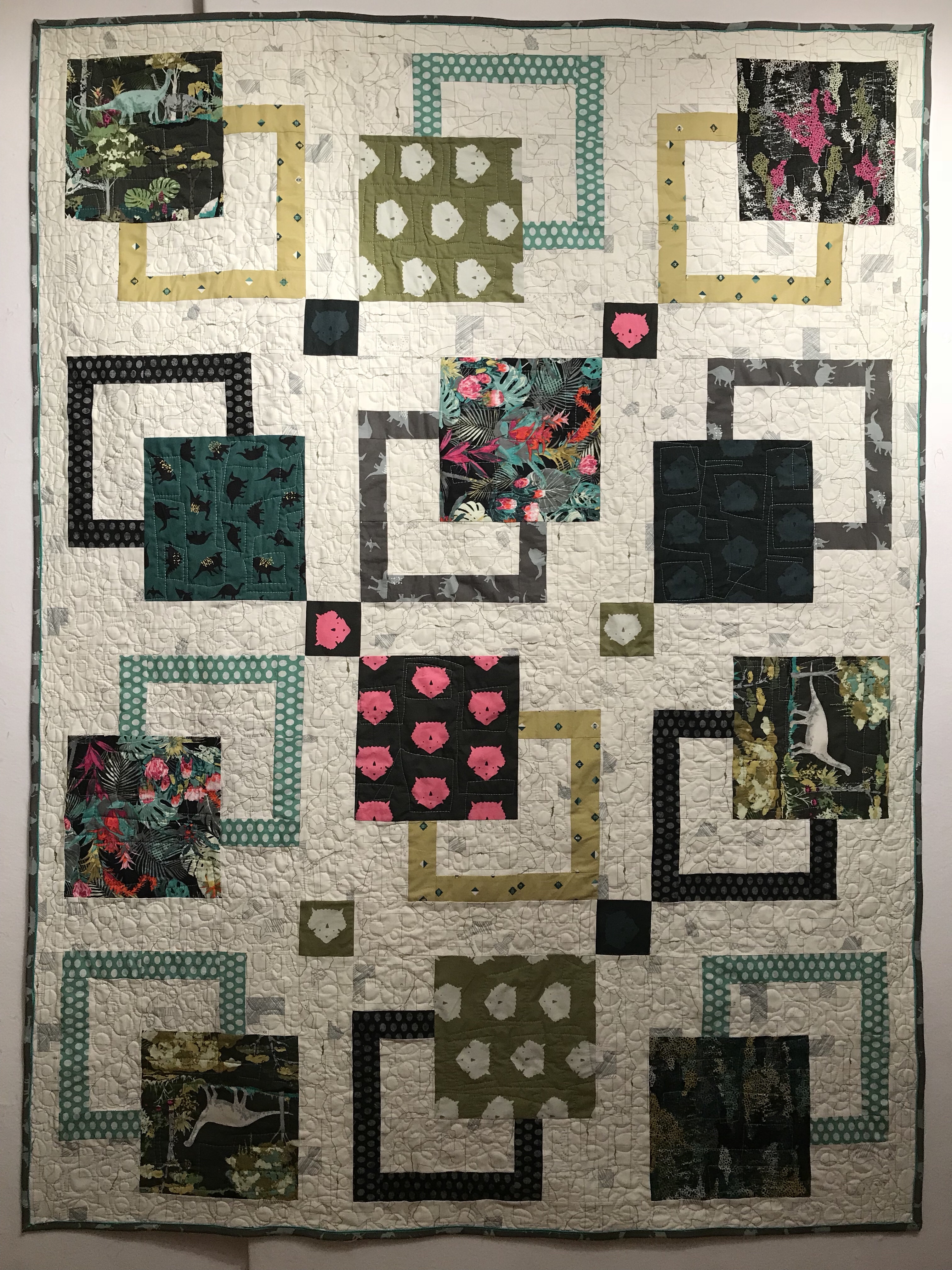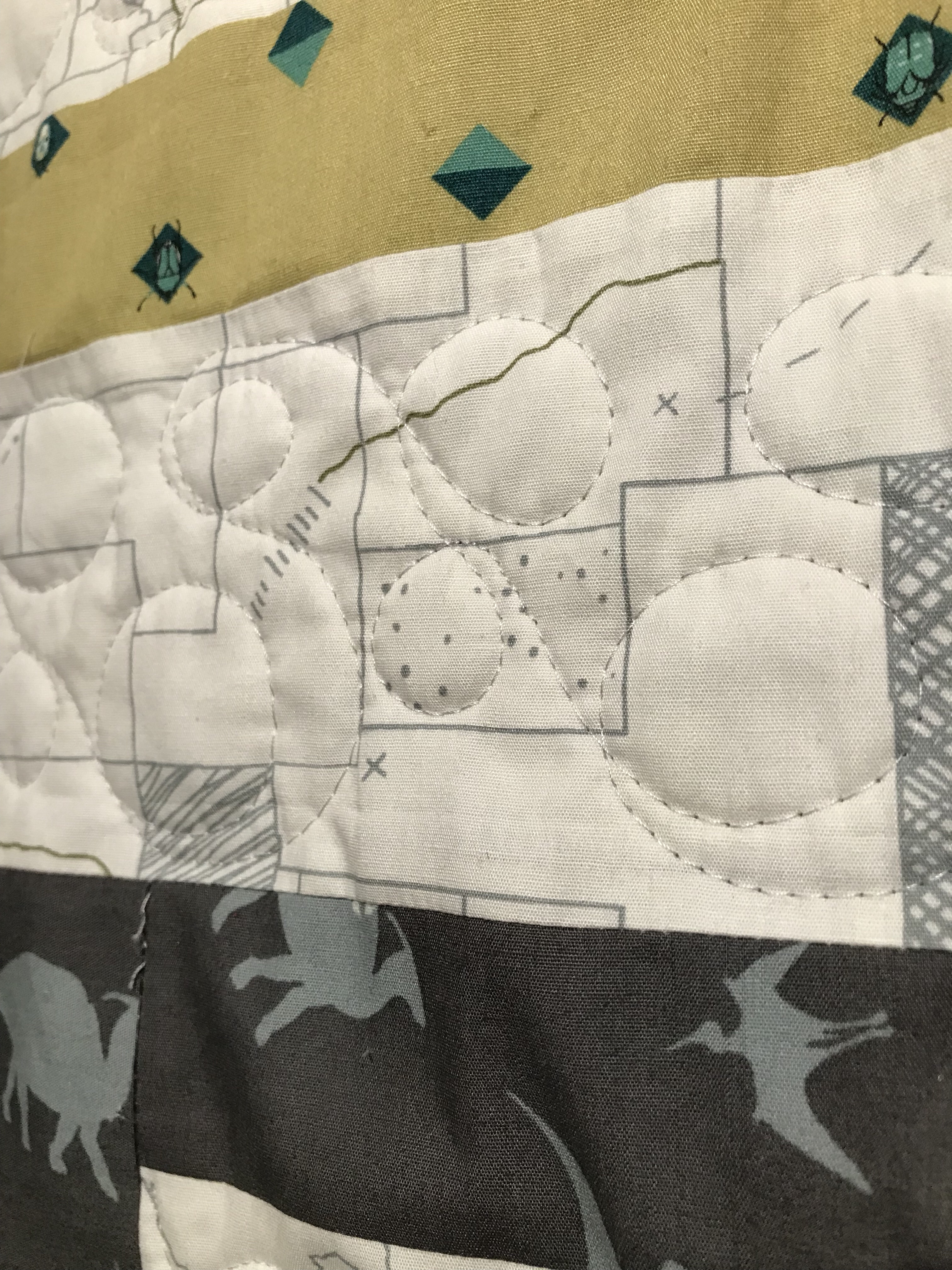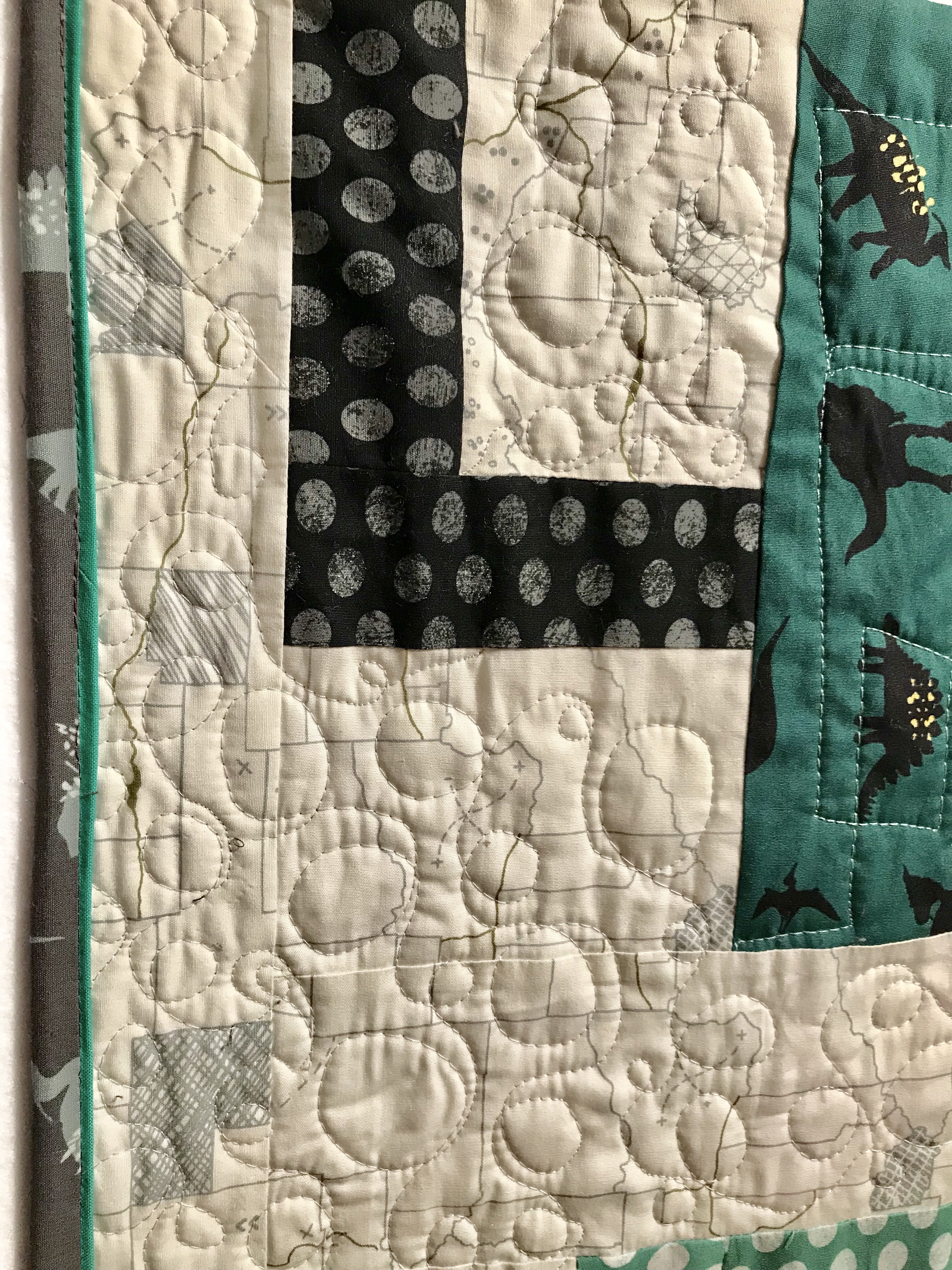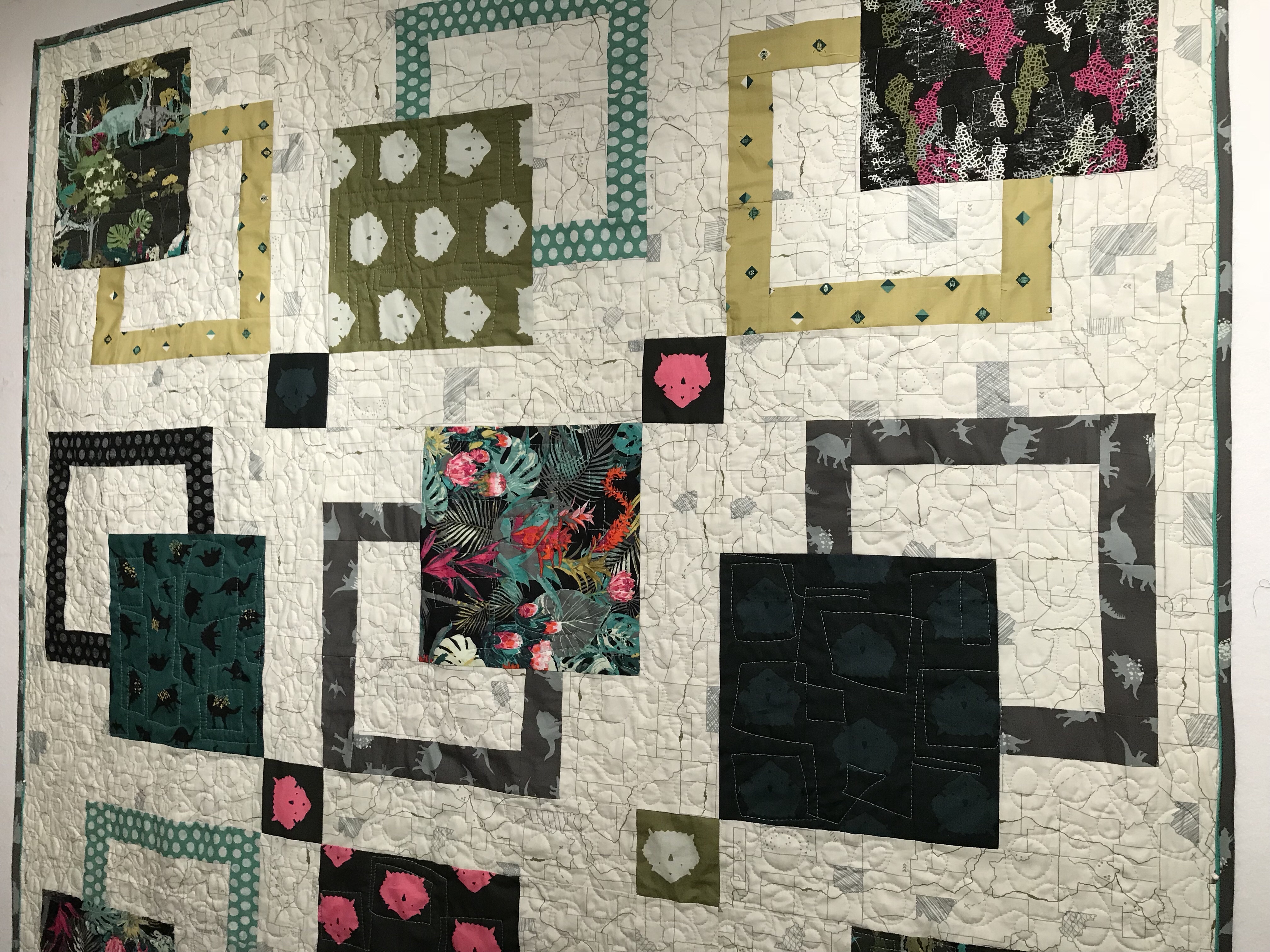 I couldn't resist some accent color in the binding, hence that faux-piping binding…it is kinda my favorite. How about you? Tried it yet? Just search the name and you will get several good tutorials for it – I used one HERE.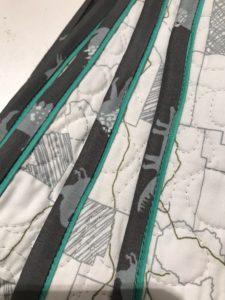 And the three Aurifils I used (light gray and teal on the top and dark gray in the bobbin) are these: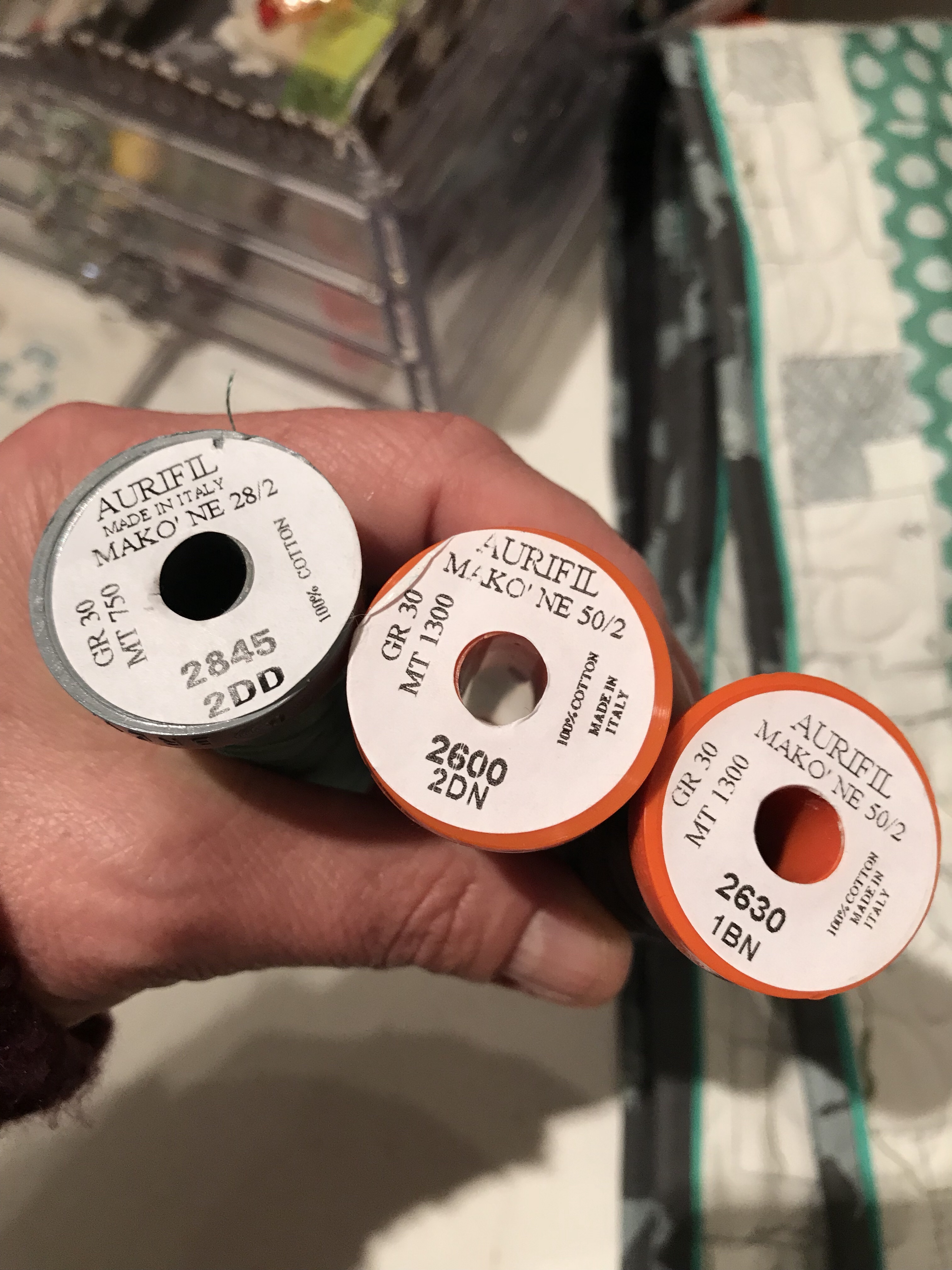 After quilting and binding, it was time for some photos!
Except, it was raining ALL the time these days!! Nothing to dampen your excitement about finished project, like rain all the time so you can't take a decent photo… But, it finally stopped, and first it was some around our house…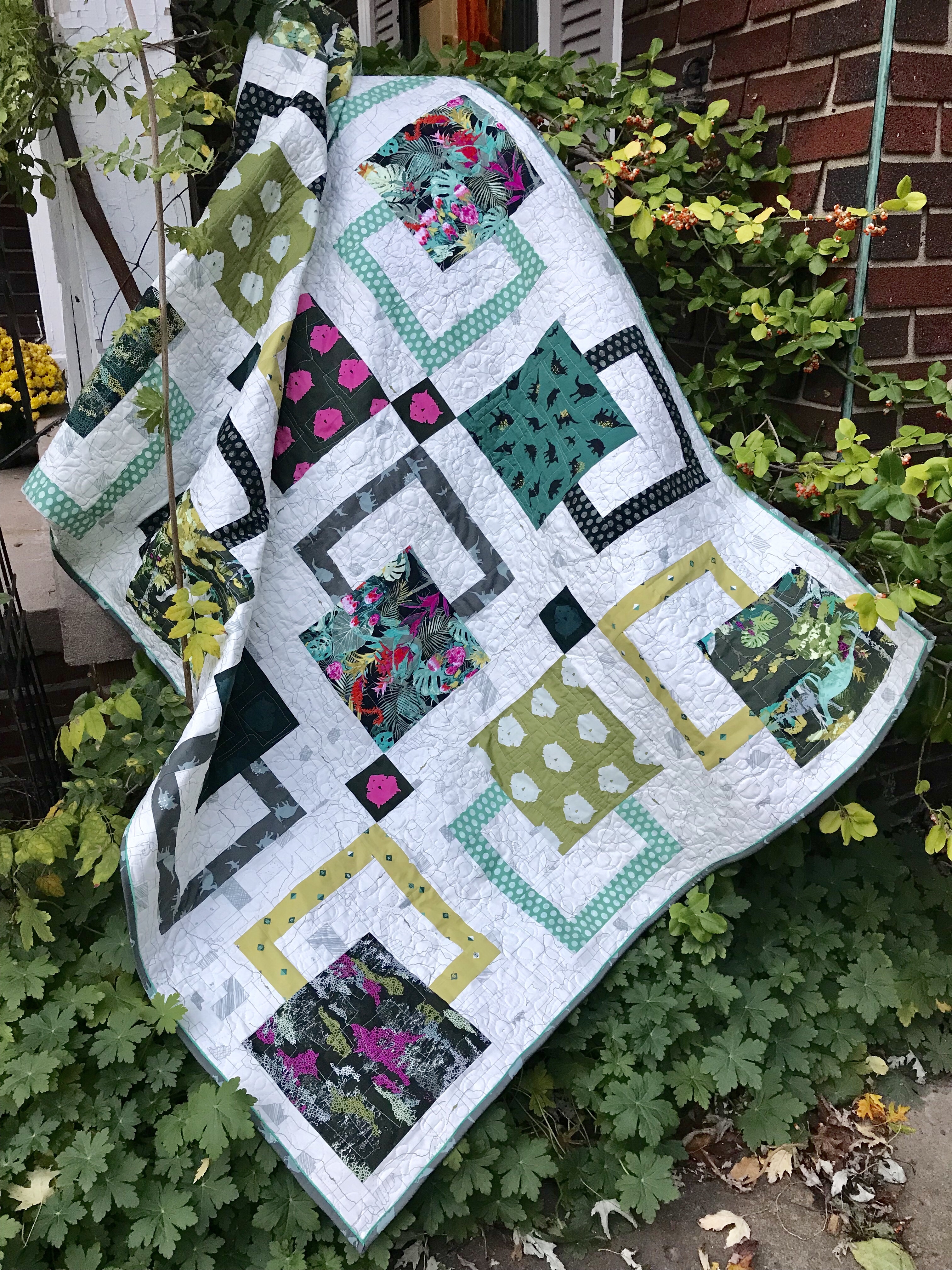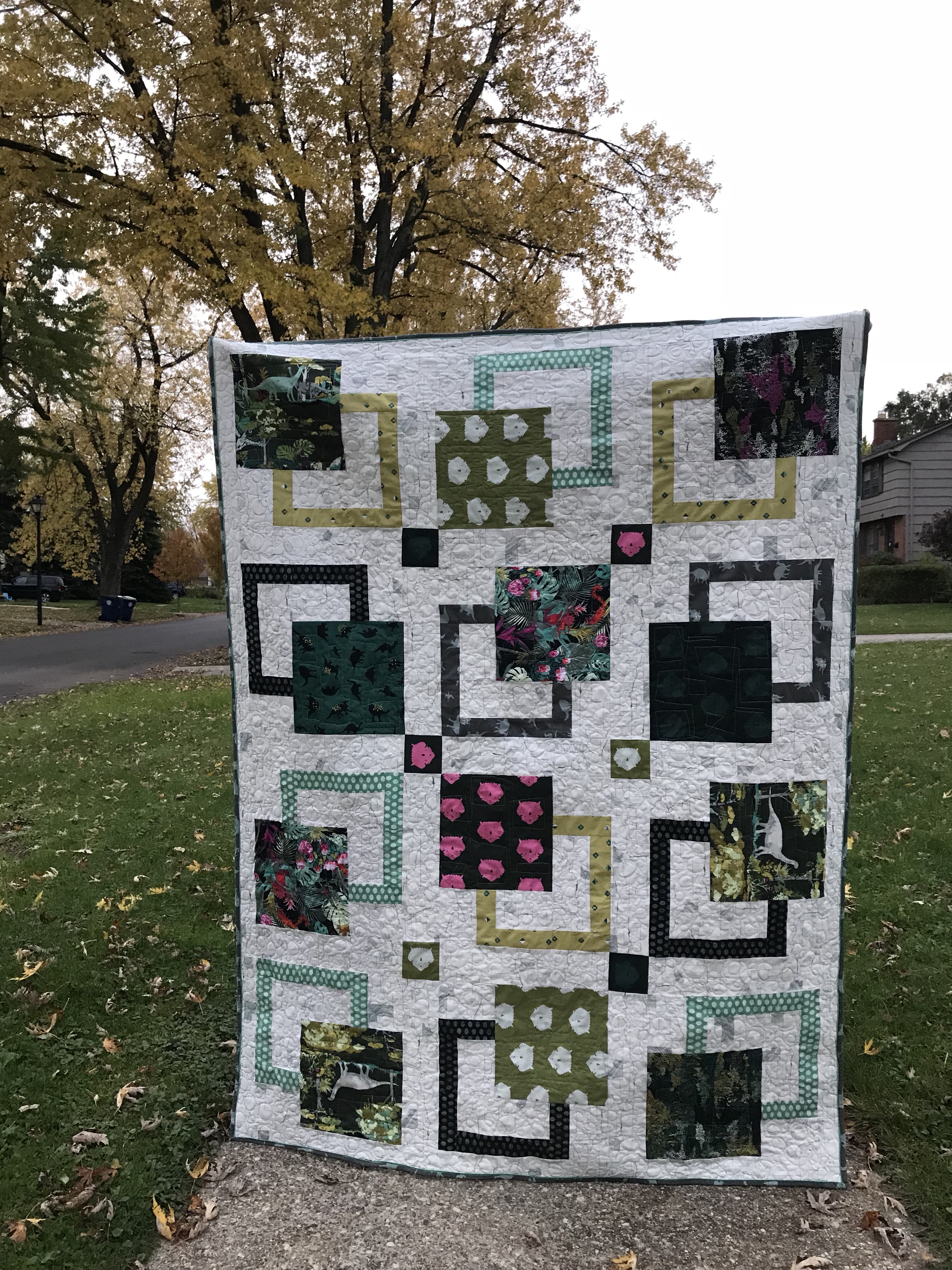 For the back, I used a piece of Katarina's very first collection – Indelible. Doesn't it look good with Esoterra?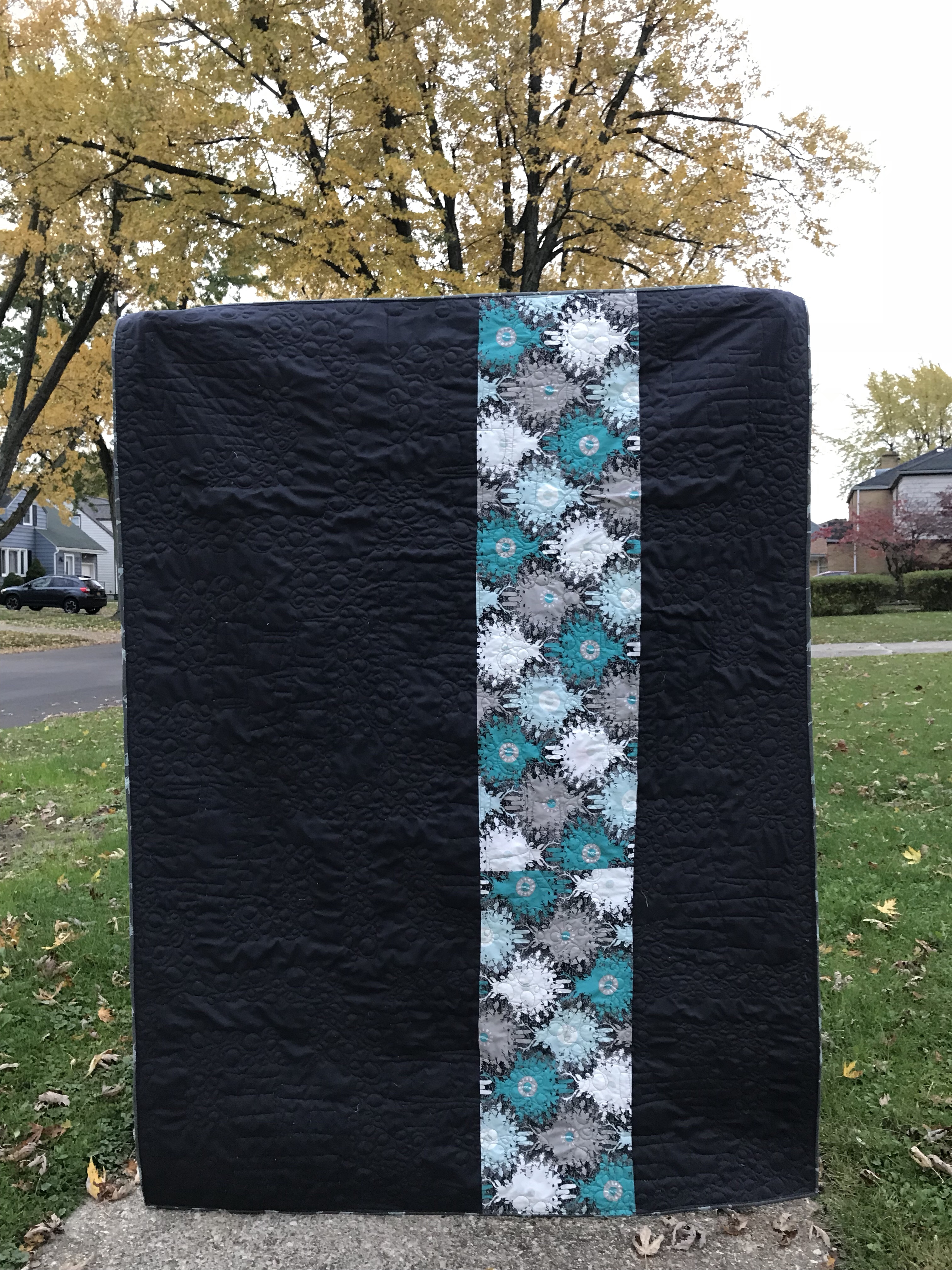 Since it was time to go to work, I took the quilt with me in the car and stopped at the Glen Falls park…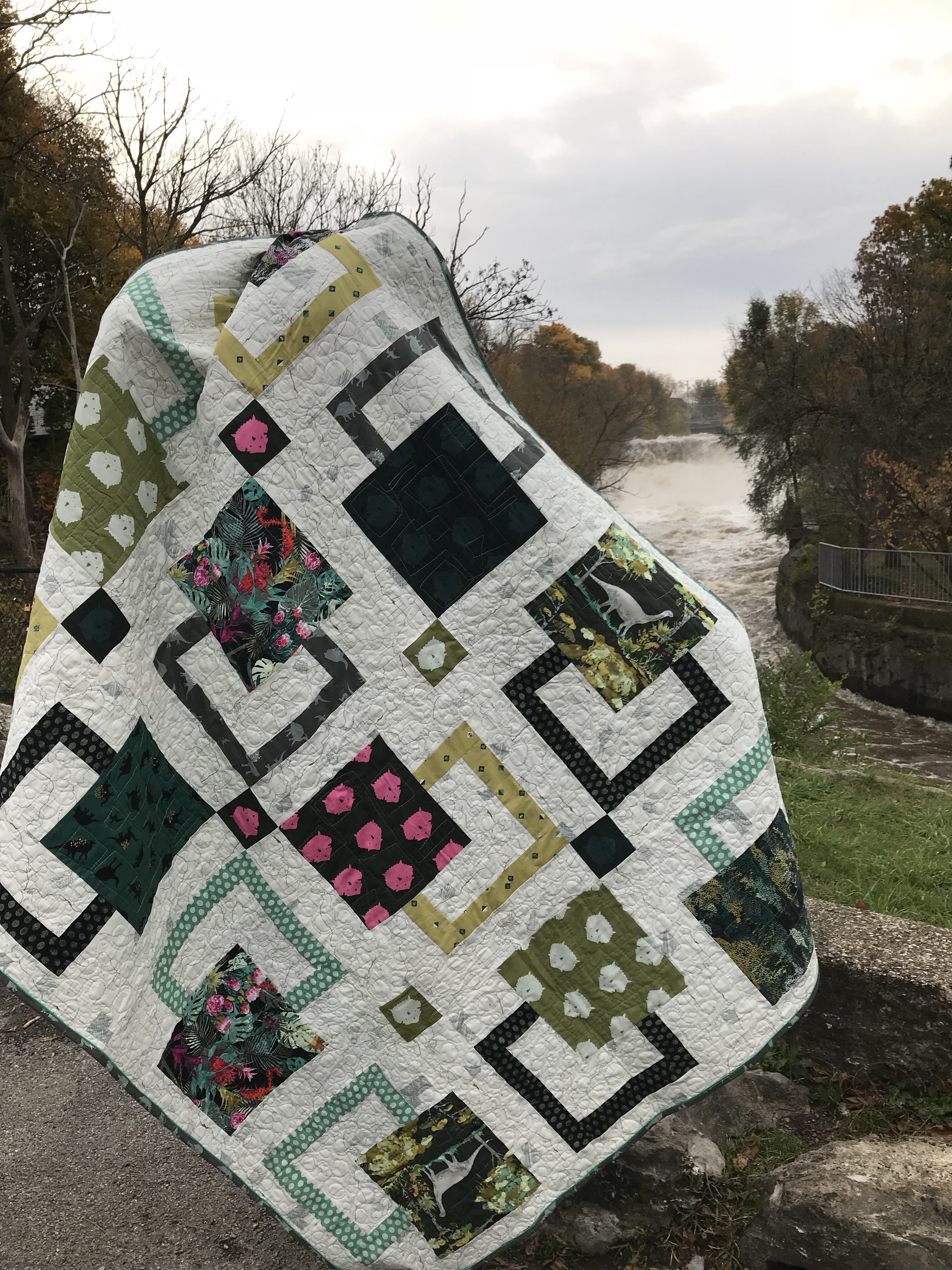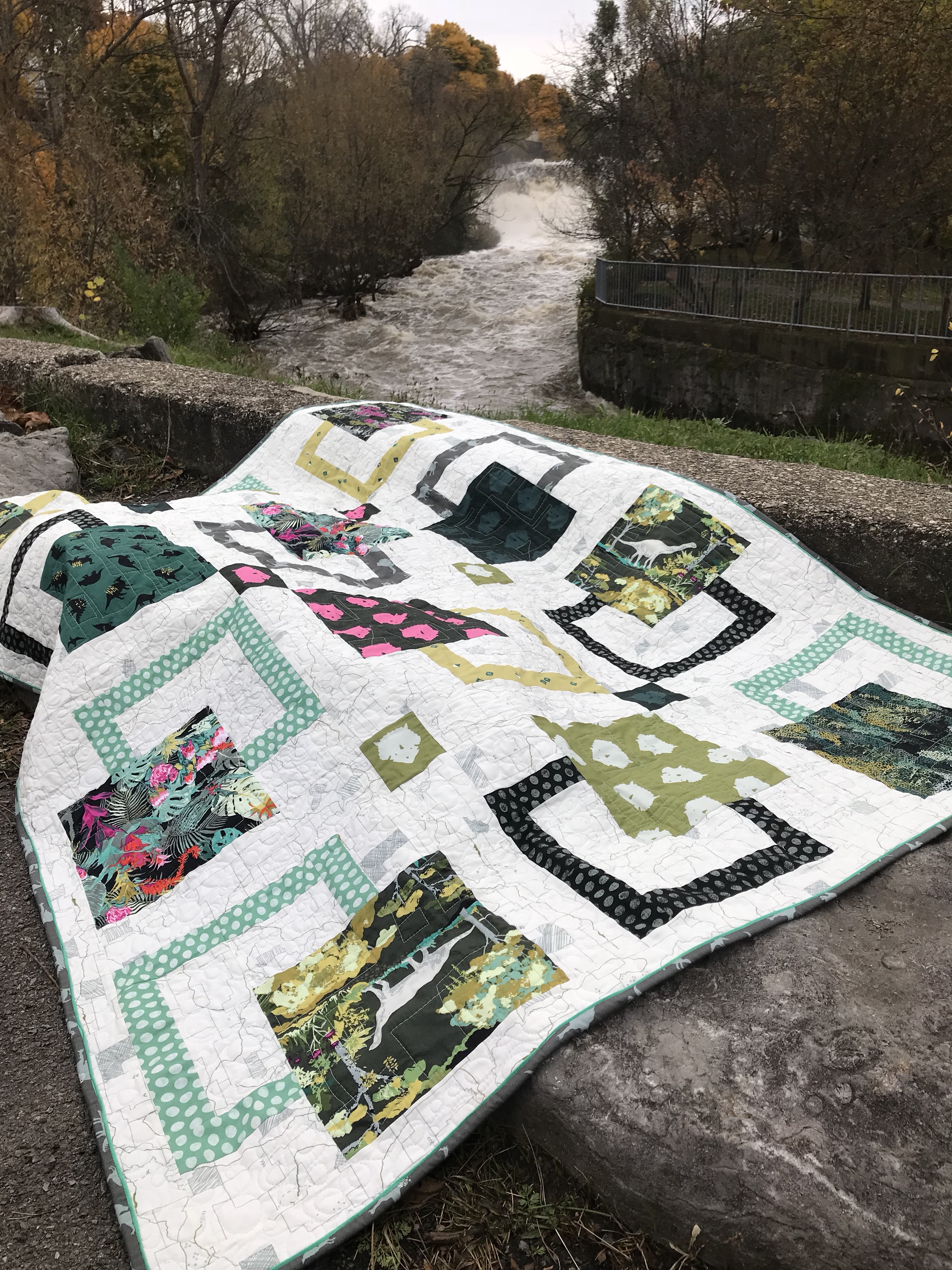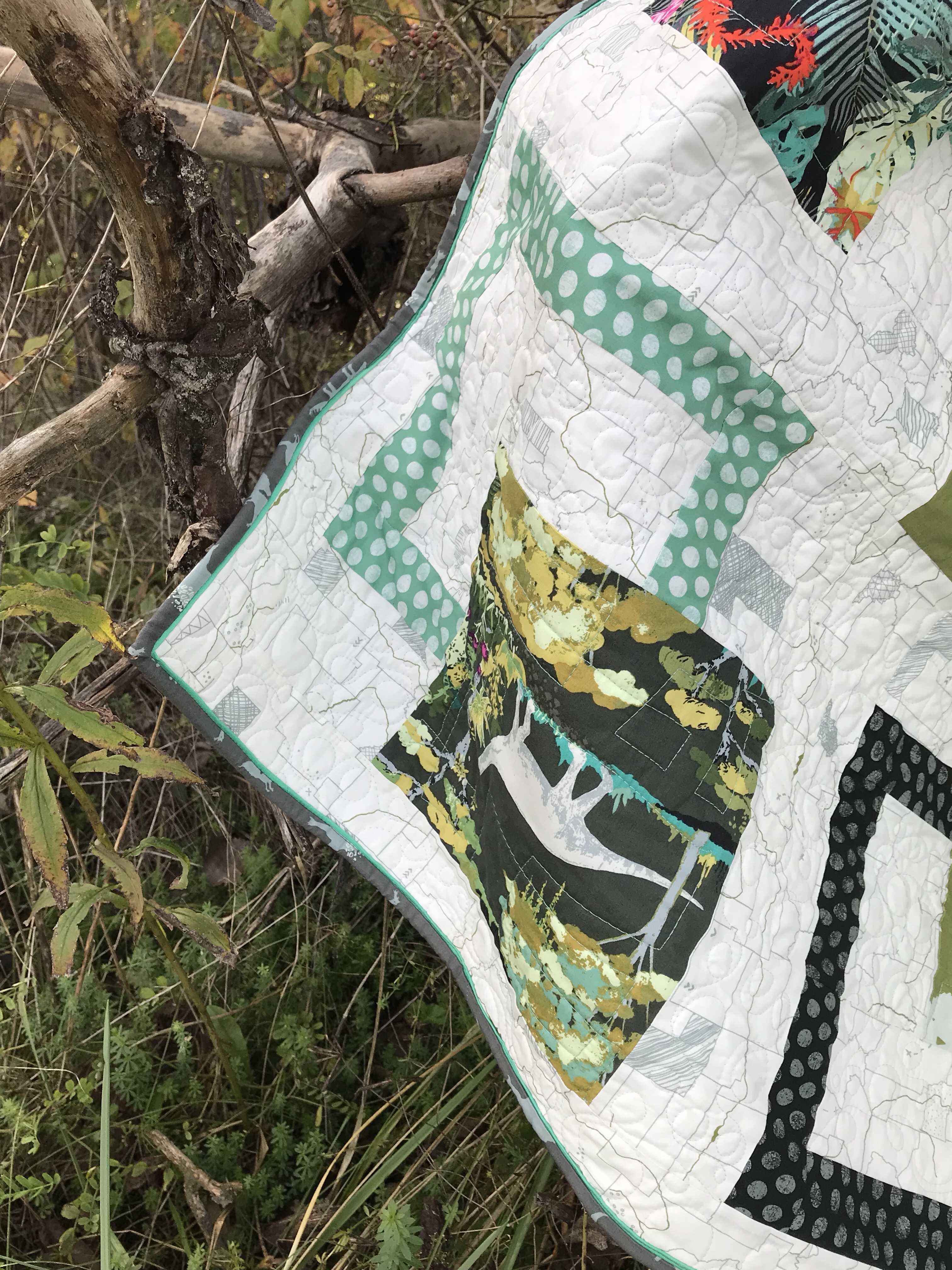 And then, there was finally some better light and weather, so took few more on my lunch break at work… (hey whatever works, right?)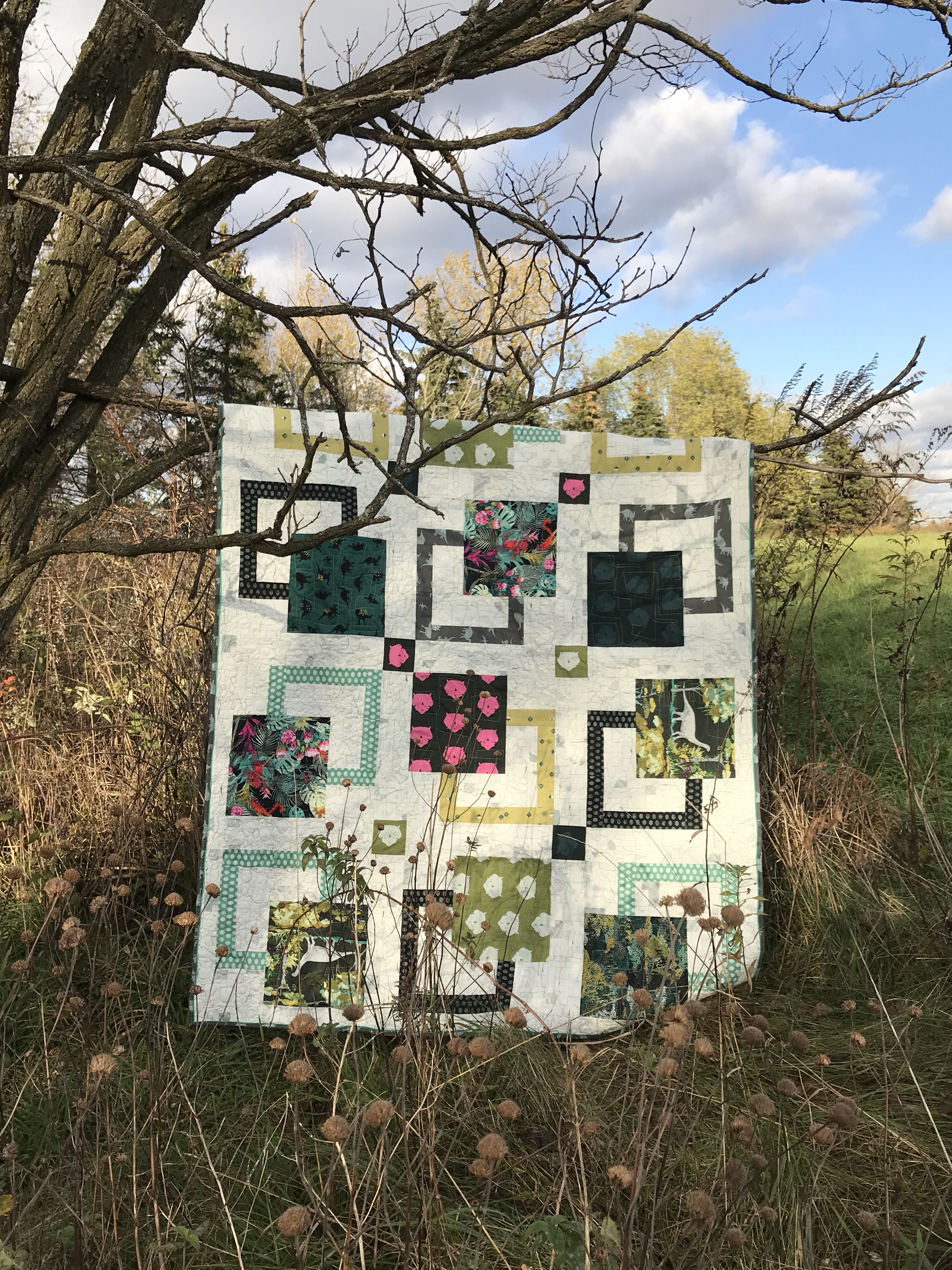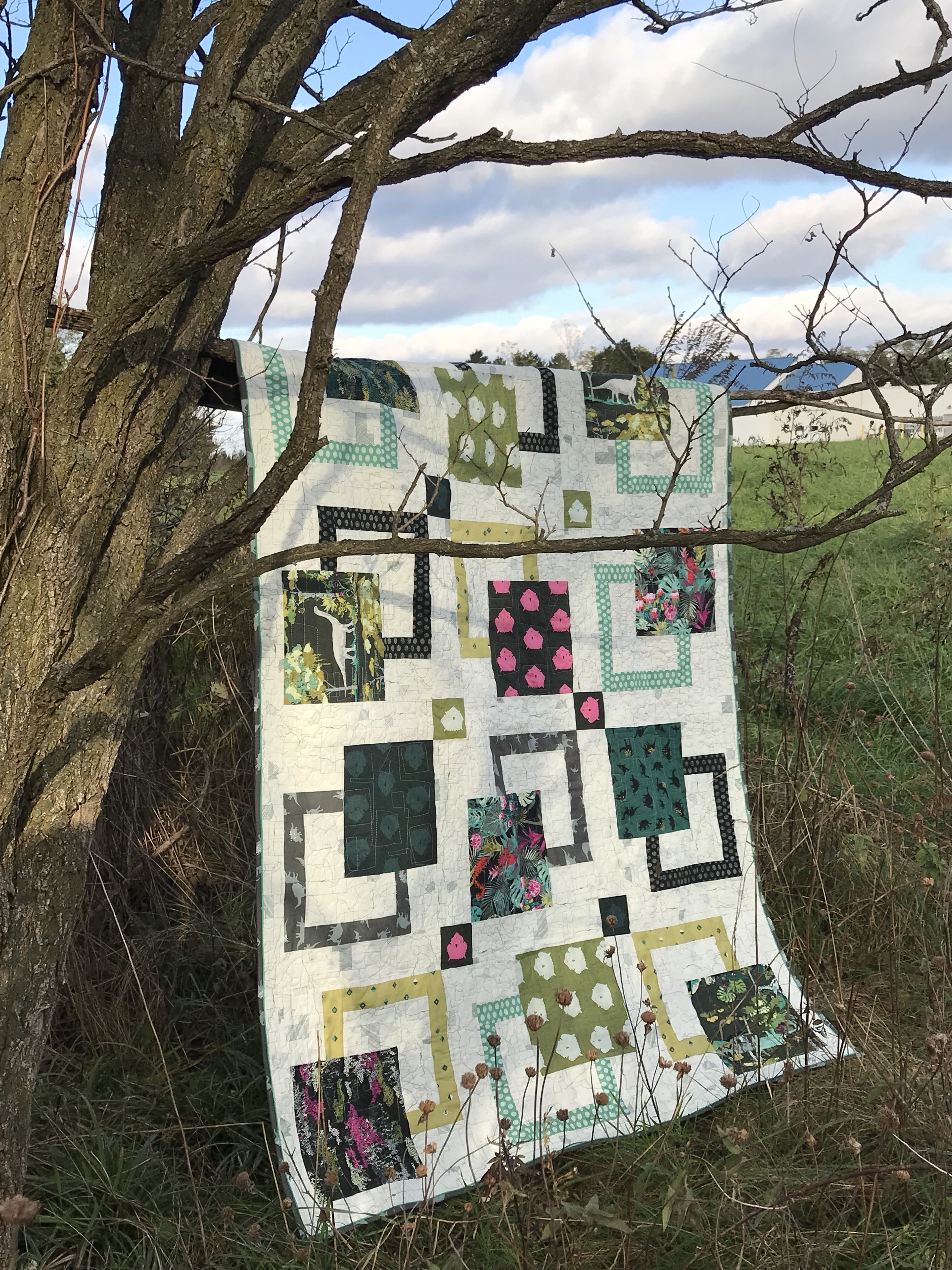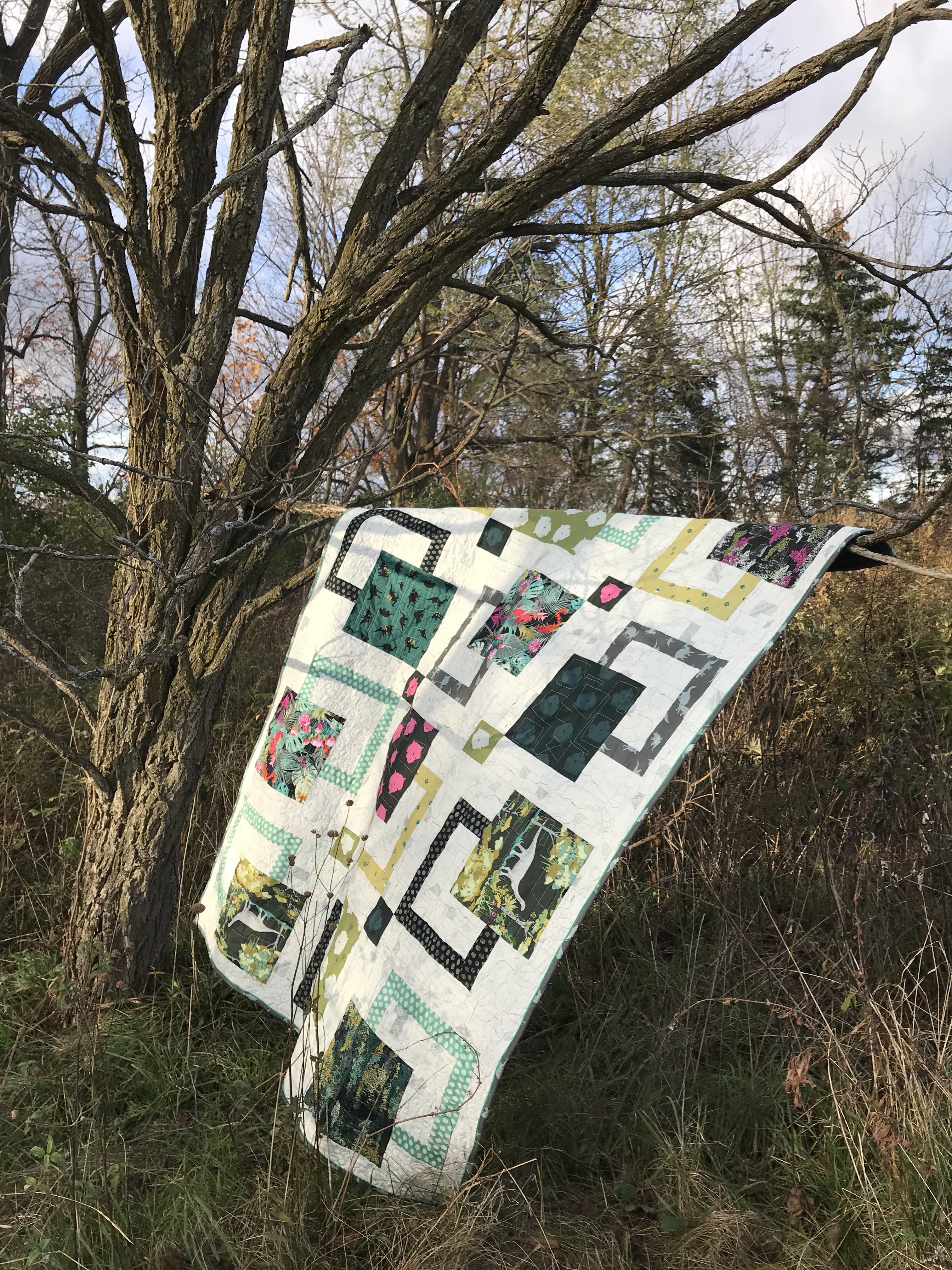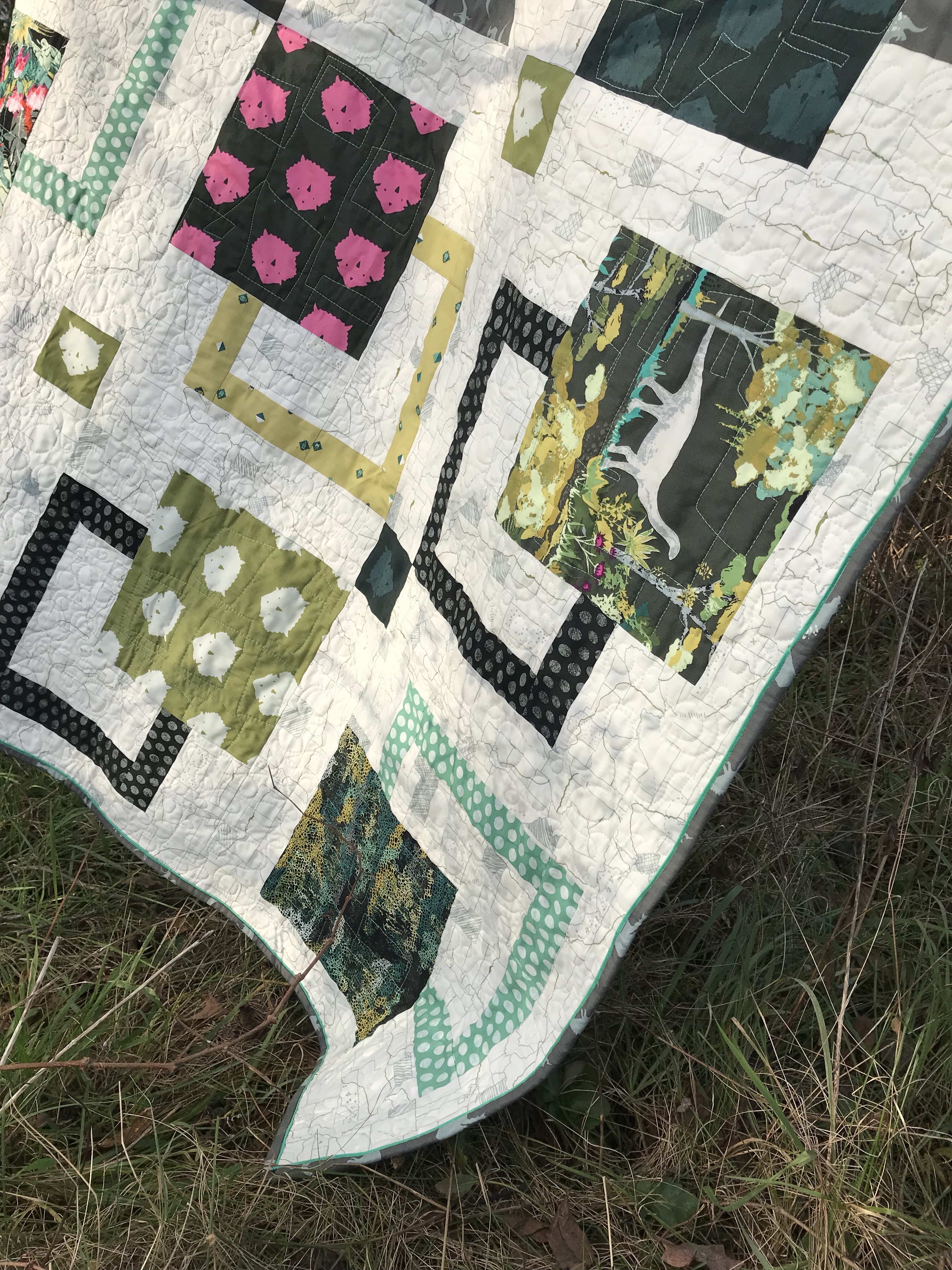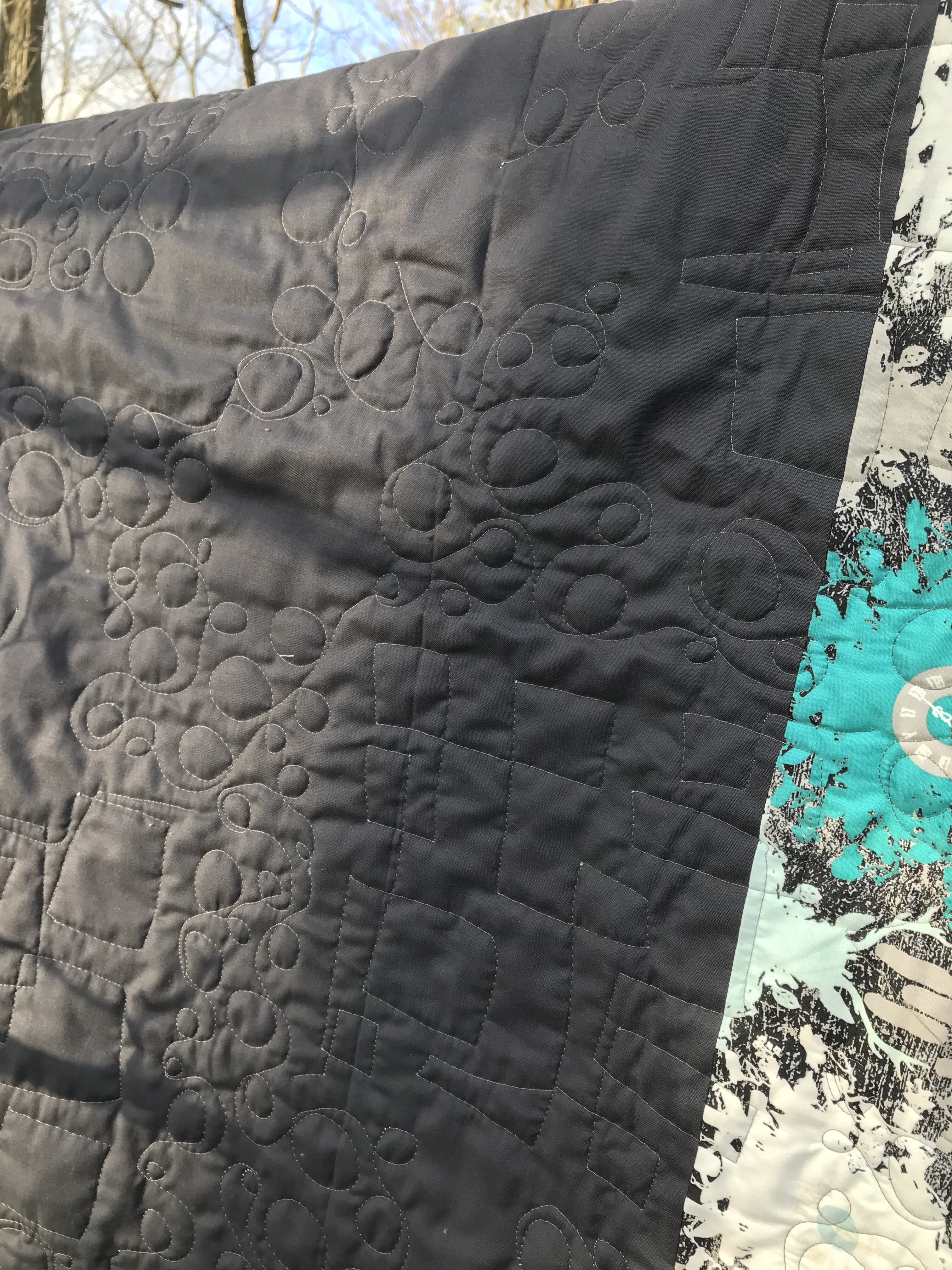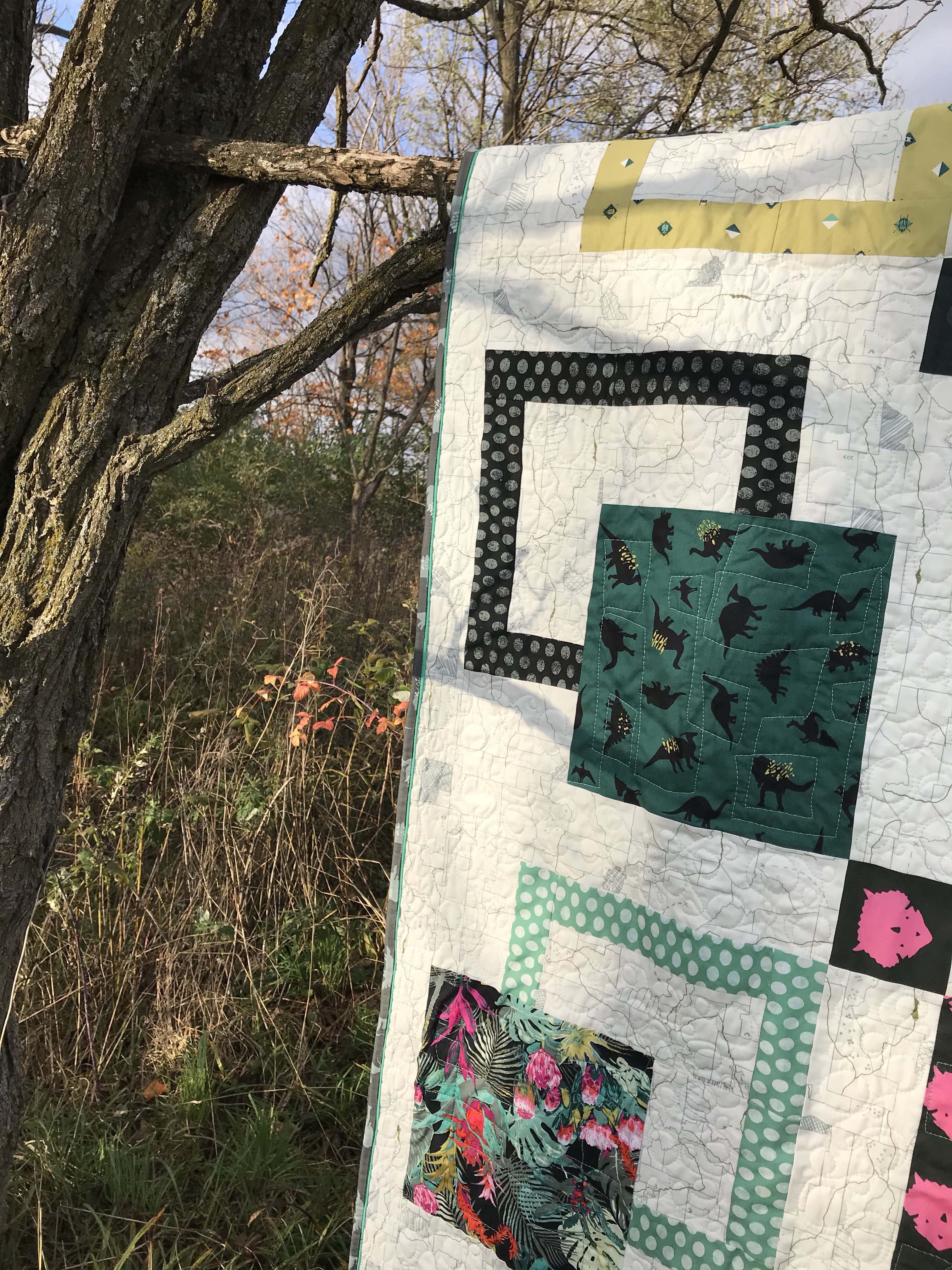 Thank you so much for visiting and I hope you give this pattern a try! If you do, please show me your beautiful creations – tag me at @mvquilts on Instagram or send me an email – mvquilts@yahoo.com – I would love to see them!!
I will be back soon with few more projects I made from this fun and beautiful fabric collection. In the meantime, don't forget the Lookbook – it is just full of amazing projects, patterns, ideas and inspirations!
Love,
Marija